2020 began with some boring regulatory news. The UKGC announced their mooted credit card would go ahead, effective April 2020. As circumstances had it regulators across Europe would find themselves getting more active during the year in efforts to keep a lid on online play.
We weren't long into the new year before it became clear Evolution (they dropped the 'Gaming' part in 2020) would be continuing their quest for US live dealer domination with another supply deal…Parx Casino Pennsylvania. This wouldn't be the last for the year. Golden Nugget, BetMGM, PointsBet, FanDuel, Wynn Sports Interactive, William Hill (US facing operations) and Caesars would all be added to the list during 2020.
Speaking of William Hill and Caesars, they dropped one of the year's bigger M&A announcements towards year end. First it was revealed the two companies were in advanced takeover discussions. Then it was revealed that Caesars are only really interested in Hill's US operations, meaning the rest of the business will likely be auctioned off during 2021.
Still in January, and Chinese worldwide ushered in the Year of the Rat. While some were speculating what the rat would mean for their gambling fortunes during the year, we would all soon learn that 2020 would be less about rats and more about bats.
Players' need for speed was further satisfied with the introduction of live Speed Blackjack. Live blackjack tables with more than just a reduced count between deals.
Anyone hoping the Live Game Show epidemic had run its course in 2019 would soon be disappointed with the arrival of the first (and not last) of 2020 – Sicbo Deluxe. Sicbo Deluxe was another multiplier game. It was also another example of Playtech saying to Evolution, 'anything you can do, we can do better'. Or perhaps more accurately, '…we can copy almost as well'.
They revisited this strategy later in the year with Deal or No Deal The Big Show and another themed Big Wheel game – Adventures Beyond Wonderland.
Playtech weren't the only ones pumping out the Game Shows. Evolution gave us Mega Ball, Crazy Time and Lightning Baccarat. Then there was Mega Wheel and Mega Sicbo from Pragmatic Play.
Hang on. Pragmatic who?
Live tables from Pragmatic Play (the ghost of Extreme Live Gaming) first popped up at Leo Vegas. Before the year was done they'd appear at a bunch of other big name operators including 888 and Betvictor.
2020 was a big year for NetEnt. First came a studio/table revamp, including a bunch more blackjack and roulette tables. It also came with some extremely convincing looking virtual backgrounds.
Still no sign of a NetEnt live baccarat table in the new look studio. It did come before year end however. But not before upstart newcomer Pragmatic Play launched their own baccarat tables. These tables did have a familiar look about them.
By April it was evident this would be a year like no other.
We were introduced to the concepts of social distancing and home quarantine. Wearing a mask became the norm. Everyone started speaking like virologists, discussing case numbers, transmission rates and herd immunity.
Parties became a thing of the past, even on the Party Blackjack table.
Amid all the doom and gloom came one of our favourite new live games for the year…Sette e Mezzo. A beautiful old Italian game, with no flashy game-show contraptions in sight.
A completely different deck of cards took some getting used to. It was worth it. Chapeau Playtech.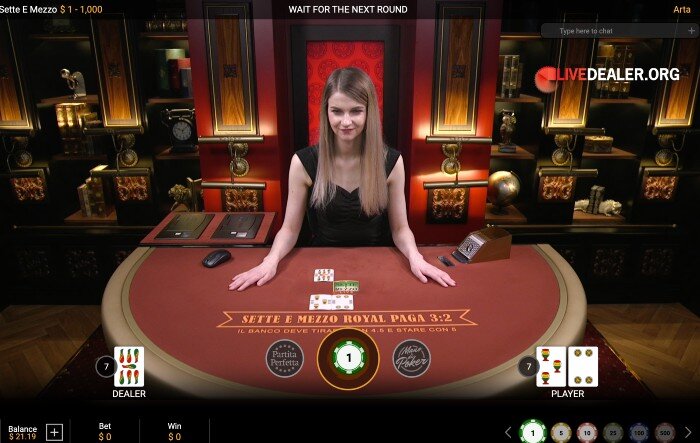 Soon after, Evolution boosted their Infinite Blackjack series with Power Blackjack. Forget double-down. Now you could Triple or Quadruple Down!
Thanks to Playtech's Majority Rules Speed Blackjack you could also leave your fate in the hands of other players. Just as well most online blackjack players know exactly what they are doing.
In June NetEnt were in the headlines again with their board unanimously recommending that shareholders accept a €1.86 billion takeover offer from Evolution. This news came as a big surprise.
Not such a surprise was Evolution taking their 11th straight Live Casino Supplier of the Year award.
We were introduced to a lot of new live games in 2020. But Evolution kept us waiting right up until year end for one of the most anticipated launches – Craps Live.
Then came another table we'd waited a long time for…live baccarat from NetEnt. And they weren't done there. Following soon after with their first Game Show…Roulette Max. They were certainly ending the year with a flourish.
That is, until their Malta studio was shut, merely days after the aforementioned game launches.
Fitting I guess for a year in which the only real certainly, was uncertainty.
Here's hoping for a slightly more predictable 2021!