Live PLO Dominance Review: Live Play Fundamentals
The first section of the Live PLO Dominance course is presented by Dylan Weisman, and it focuses on what it means to be a (semi)professional live poker player in the modern era with a particular focus on PLO.
One of the best things about this entire course is that it doesn't come up with big promises and crazy numbers.
Right from the get-go, Weisman is being very realistic about what you can expect from playing live PLO in this day and age.
There is definitely money to be made, but he emphasizes that there are certain restrictions and limitations that can hinder your progress.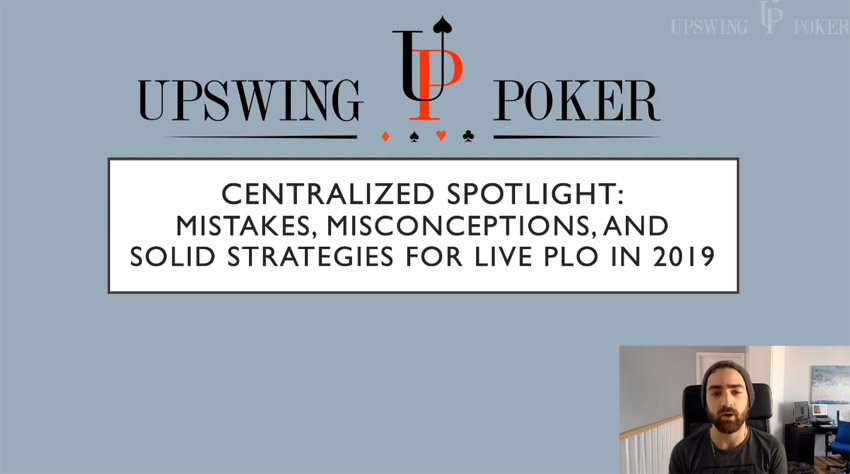 For example, he provides good insights into how you should go about building your poker bankroll.
Starting at the lowest stakes playing live PLO and building your way up may not be the most effective approach because rake is quite brutal, and you might be better off building a big enough bankroll elsewhere and starting at least at 5-5.
The fact of the matter is that most live players don't have a solid grasp of theory fundamentals of the game, and this is where you can find a tremendous edge.
Many live players stick to their guns and repeat the same mistakes over and over again, without accepting the fact some things change with time.
As mentioned, this particular course doesn't go that much into GTO, and to really learn it, you'll need to watch Advanced PLO Mastery or get Vision GTO trainer for PLO. However, just understanding GTO isn't going to make you the most money in these games.
The live PLO arena is a rather peculiar environment. Players often deviate from the GTO so heavily that you need to adjust your style to account for that fact. To do that, however, you first need to understand core fundamentals and go from there.
Preflop Mistakes
Having a solid preflop selection is very important in PLO in general, but this is especially true for live games where it is easy for bad habits to creep in.

The video covering this topic doesn't go into Monker ranges or anything of the sort but focuses specifically on what you should be thinking about in the live setting, such as:
Most pots will be going multi-way, and your raises won't get many folds
The fallacy of playing too many hands and thinking you can outplay your opponents post-flop
In this video, Weisman points out some very important concepts that you'll probably recognize if you've been playing live PLO for some time.
He talks about structuring your starting hand ranges in a way where you won't have to deal with so many marginal situations in multi-way spots. He also emphasizes that it's very hard to outplay even bad players in PLO if you are constantly at a range disadvantage.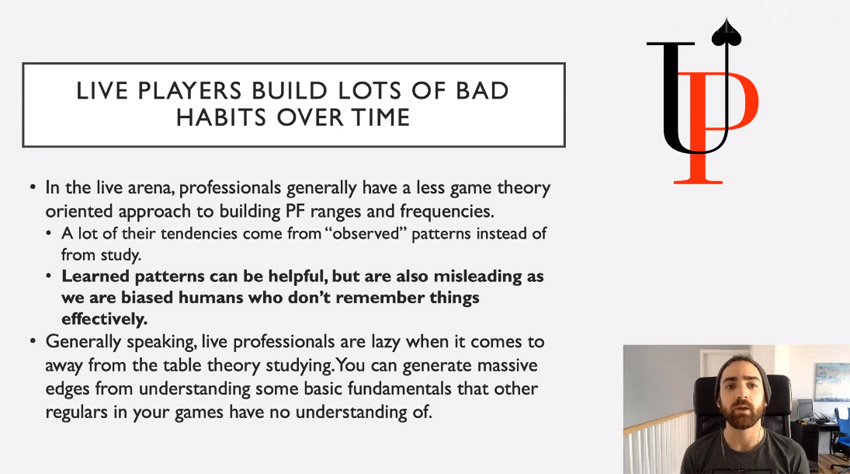 Of course, it's not always easy to figure out how to go about removing hands from your starting range.
Dylan offers several good tips on what kind of hands you should be avoiding (no nut potential, containing cards below 5, etc.), which will give you a very good starting point.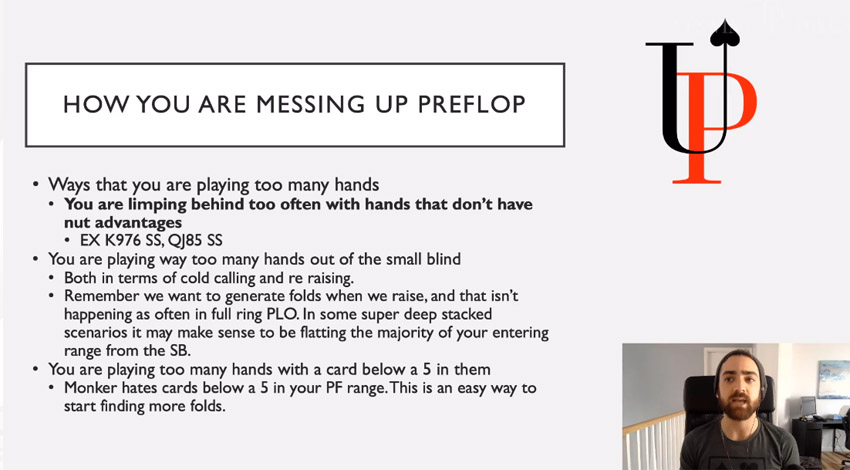 GTO vs. Exploitative
In a way, this video is perhaps the most controversial in the series as in it, Weisman talks about balancing between GTO poker strategy and exploitative play and points out some very common and widespread mistakes that people are making in live games.
One thing that he focuses on a lot is the "fancy play syndrome."
It is often that you'll have this idea of how things are going to go down and play your hand according to this "plan" you have in your hand.
The reality of the situation, however, usually doesn't correspond with this plan, and this approach can end up costing you a lot of money.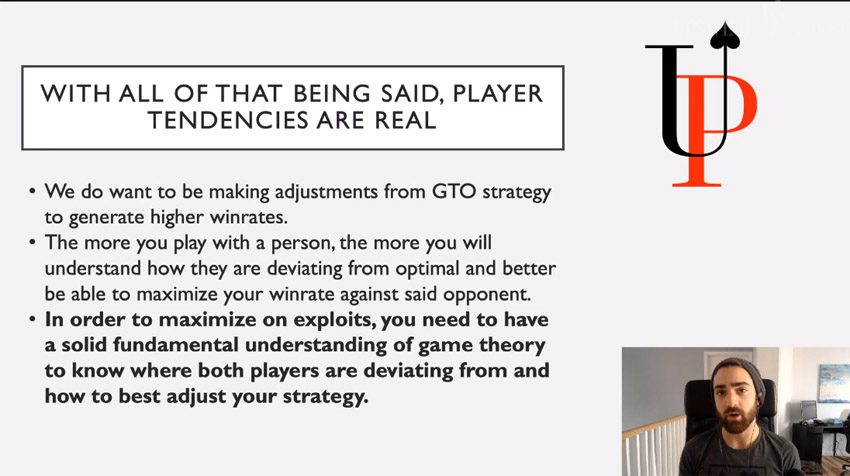 In live PLO, things can get very complicated very quickly. Most flops are going multi-way, and the plan you had going into the hand can quickly blow up in your face.
Dylan doesn't shy away from being realistic when he says that believing you can somehow manipulate four other players into doing exactly what you want is just wishful thinking.
So, what he suggests is starting from a solid theoretical standpoint and building from there.
You first need to understand at least some basic GTO principles to be able to recognize mistakes your opponents are making and adjust efficiently.
Once again, he provides an extensive list of questions that you can go through when thinking about how to exploit your opponents.
Instead of letting your ego or emotions speak, you need to focus on the real information you have, such as actual tendencies of your opponents, their emotional state, how much history you have on them, etc.
Aggression
This is a very short video but quite an important one just the same. It emphasizes one of the biggest leaks in live PLO games, which is the general lack of aggression.
It doesn't even matter if you are playing poker for a living or just recreationally, understanding this leak is real across the entire ecosystem, and adjusting for it can help you significantly improve your win-rates.
Finding ways to be more aggressive and win pots uncontested
Adjust your overall ranges for the fact your opponents aren't aggressive enough
Of course, Weisman doesn't suggest being aggressive just for the sake of it. He presents structured and logical ways to add more aggression to your game without deviating from solid fundamental principles.
He also discusses some reasons behind why this leak exists in the first place, such as the fact that live players are often afraid to lose; they don't want to hurt their image, etc.
Not finding enough aggression in live games is such a fundamental leak that the entire ecosystem is exhibiting, so you need to change your strategy accordingly.
Outside Factors
The final video of this section of the Live PLO Dominance course focuses on things that aren't necessarily related to strategy and apply to all live professionals across the board, not just PLO players.
This is a great video to watch on its own for anyone thinking about taking up poker and making it an important part of their lives.
Being a professional poker player is tough – it's a real grind. Swings and variance take their toll on everyone, and that's just something you have to deal with it. You can't avoid it.
Therefore, emotional maturity is very important, and Weisman offers some insights into how to achieve this maturity even if you aren't already there.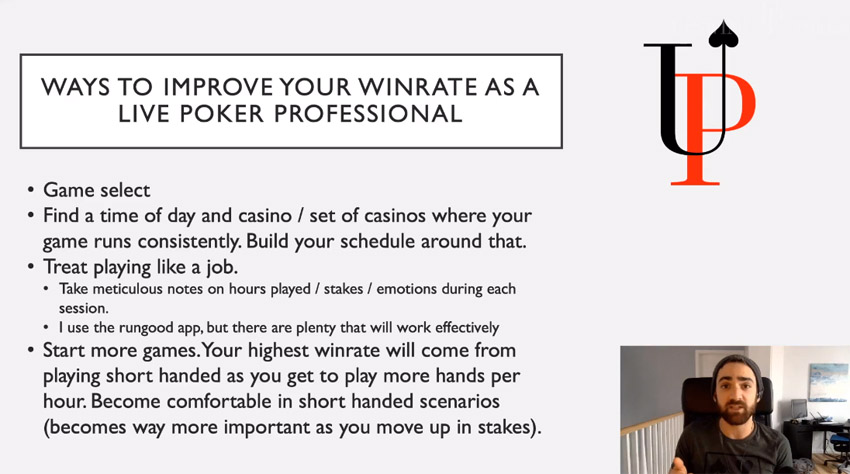 Taking care of yourself and your body is essential. Sitting for hours every day is going to hurt you, and you need to have a healthy lifestyle away from the tables to counter this.
As Weisman puts it, your body is a machine, and you need to treat it as such if you want to crush the games.
Another thing he talks about is game selection, and it brings up some very interesting points here. He doesn't just talk about finding the best games in terms of profitability (which is obviously important) but also looking for spots that offer a challenge and a way to improve your play and get you out of your comfort zone.
Finally, if you really want to be one of the best poker players out there in this day and age, you need to become comfortable with advanced poker software like solvers and Monker. You don't necessarily have to become an expert for them, but you will need some basic understanding of how they work and what kind of information you can get.
Live PLO Dominance Review: Live Play and Explains
The second section of the Live PLO Dominance course by Upswing is exactly what the title suggests. It contains several videos where Dylan goes into details of his own live PLO hands played across various stakes at Aria and the Wynn poker room.
In this section, you'll get to see many actual examples of some mistakes discussed in the first section of the course.
Weisman is doing a good job of finding interesting spots that he breaks down in detail and provides in-depth analysis.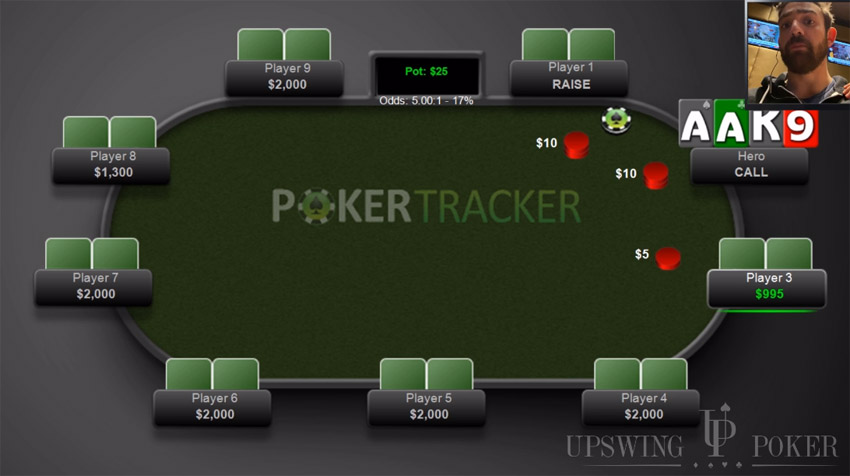 If you love PLO, you'll find this part of the course not just very informative but quite entertaining as well.
Instead of dry theory, you get to see some real hands and interesting spots, and Dylan is doing a very good job of keeping things as entertaining as possible while offering useful strategic advice and insights.
Live PLO Dominance Review: Bridging the Gap
The final section of the Live PLO Dominance is named Bridging the Gap, and it is indicative of what you'll find inside.
Presented by Chris Wehner, it represents a resource for live players looking to dip their toes into online PLO games.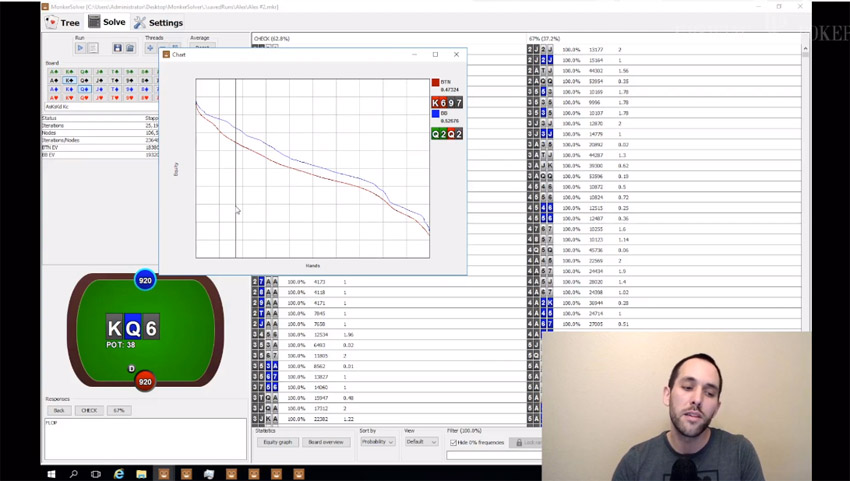 For many, this is a big challenge, and it is no secret that online games are much tougher on average than live, but Wehner is convinced the gap can still be bridged.
This section of the course is much more focused on theory, odds and numbers, so you'll be better prepared for it if you've already seen the Advanced PLO Mastery Course, but it's not a requirement.
To try and prove his point, Chris is looking into hands Alex Livingston, a successful online PLO player. All hands are from PLO200 and PLO500 Zoom tables, which are generally considered very tough and challenging.
Over the course of several videos and many interesting hands, Wehner shows that a solid live player can still find a place for themselves in the online PLO arena.
Of course, some adjustments will be required, and perhaps a more GTO-focused approach is necessary, but someone with solid fundamentals coming from the live background can make it at online tables as well.
This section will also teach you some fundamentals of using Monker Solver, that little piece of software that was mentioned earlier.
You won't get overwhelmed with the information, and you'll get a nice and quick introductory course that will be very helpful if and when you decide it's time to take a more math-based approach to the great game of Pot-Limit Omaha.
Final verdict: How Valuable Is Live PLO Dominance?
Upswing's Live PLO Dominance is definitely an interesting poker training course for anyone currently playing or considering the idea of playing live Pot Limit Omaha in a serious fashion.
The advice you'll find inside will help you improve many areas of your game and provide you with a fresh perspective, opening your eyes to some things you may not have considered before.
It needs to be said, however, that this course will only really help you if you already have some solid fundamentals. You won't find exact opening ranges inside nor specifics on how to structure your bet sizes. Live PLO Dominance, while very watchable, isn't a beginners' course.
Click here to find out more!
Course creators don't hide this fact, though, as they often reference their main PLO course along the way. Whether you decide to go with Advanced PLO Mastery or something else is up to you, but I'd suggest watching Live PLO Dominance after that.
All in all, this is a quality product that does what it says on the tin. It's not an introduction to PLO poker rules, but a specialized course that focuses on modern live games, population tendencies, and adjustments you can make to improve your win-rates in that environment. And it does a very good job at it!