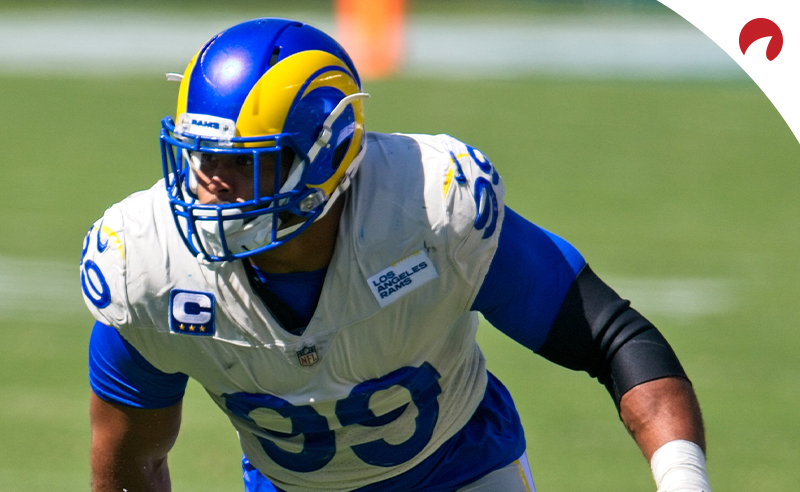 We're nine weeks into the 2020 NFL season and while some things have changed, some things remain the same, including Los Angeles Rams defensive tackle Aaron Donald as the favorite in NFL Defensive Player of the Year odds.
Donald continues to be a disruptive force in every game he plays and the best football betting sites have him at +250 to win the third DPOY award of his career. Donald was the preseason favorite at +700 and is the co-leader in the NFL with nine sacks.
Two players from the AFC North trail Donald on the oddsboard and that's TJ Watt of the Pittsburgh Steelers and Cleveland Browns defensive end Myles Garrett. Watt has +350 odds while Garrett is up to +500 for NFL Defensive Player of the Year odds.
If you're a new bettor and you've never wagered on NFL Futures before, you're in luck because Odds Shark has a handy guide on how to bet on the NFL that will get you up to speed.
If you prefer offense over defense, you can also read up on which player is the favorite to win the NFL MVP Award in 2020.
Who is the Favorite to Win NFL Defensive Player of the Year?
2020 NFL Defensive Player of the Year Award Odds

| Player | Current Odds | Opening Odds |
| --- | --- | --- |
| Aaron Donald | +250 | +700 |
| TJ Watt | +500 | +1300 |
| Myles Garrett | +350 | +1300 |
| Khalil Mack | +600 | +1100 |
| Budda Baker | +1000 | N/A |
| Fred Warner | +1400 | N/A |
| Stephon Tuitt | +1400 | N/A |
| Minkah Fitzpatrick | +2000 | +4000 |
| Joey Bosa | +2800 | +2000 |
| Lavonte David | +2800 | N/A |
| Jaire Alexander | +3300 | N/A |
| Za'Darius Smith | +3300 | +5000 |
| Bobby Wagner | +5000 | +3300 |
| JJ Watt | +5000 | +1300 |
| Jadeveon Clowney | +5000 | +2500 |
| Jalen Ramsey | +5000 | +4000 |
| Jamal Adams | +5000 | +3000 |
| Tre'Davious White | +5000 | +3300 |
| Darius Leonard | +6600 | +3300 |
| Stephon Gilmore | +6600 | +2000 |
| DeForest Buckner | +8000 | +4000 |
| Marcus Peters | +8000 | +7000 |
| Chris Jones | +10000 | +5000 |
Odds as of November 11 at Bovada
Donald Is A Wrecking Ball
Through nine weeks of the 2020 NFL season, it's safe to say that Aaron Donald has been the most impactful defensive player thus far. The sacks are obviously an easy stat to gravitate to but it's the quarterback pressures and knockdowns that don't get enough shine.
Donald ranks in the top five in quarterback pressures but the fact that he's doing this as a defensive tackle gives him such a huge edge (no pun intended). It's much harder to cause disruption on a per play basis when you're in the middle of the line as opposed to on the edge.
Another reason why Donald may have the advantage is the secondary behind him and the success of his team. Having a safety net like Jalen Ramsey (+5000) to cover up mistakes if Donald can't get to the quarterback is a huge advantage. Ramsey's ability to cover receivers also gives Donald more time to get to the QB, which in turn leads to more sacks.
Barring injury, Aaron Donald will win the 2020 NFL Defensive Player of the Year award and he still has value at +250 odds.
Long Shot to Consider for NFL DPOY Odds
He still has a lot of work to do to get included in the Donald/Watt/Garrett conversation, but bettors should keep an eye on Steelers safety Minkah Fitzpatrick. The third-year defender has fit into the Steelers culture like a glove with his ability to defend the deep ball but also as a playmaker, which was evident when he took an interception to the house vs the Browns in Week 6.
Fitzpatrick opened at +4000 odds (now +2000) and is very enticing given how the Steelers defensive unit has performed through eight games, ranking fifth in both points allowed per game and passing yards per game.
This isn't to say Fitzpatrick is the direct reason but if he keeps getting interceptions as a result of the Steelers' pressure on the quarterback, he has to be in the discussion for NFL DPOY as he was last season when he had five interceptions in a seven-game span. TJ Watt (+350) may get the credit for pressuring the quarterback but if Fitzy continues to be a ballhawk, his odds will only trend downward.
---
Understanding NFL Defensive Player of the Year Odds
When you check out your football sportsbook of choice, you'll see defensive player odds that look something like this:
Aaron Donald +700
Nick Bosa +850
Khalil Mack +1100
TJ Watt +12300
Chandler Jones +2000
To bet on these odds, you would be making a futures bet – more on that in a bit. In this case, there is no clear favorite like there would be on a moneyline or spread bet. When you don't see odds with a minus sign (-) beside them, then the player with the lowest odds is the fave. The rest are considered underdogs.
If you think Aaron Donald is the defensive player to beat, and you bet $100 on him, you'd get a payout of $800 – you get your $100 back along with your winnings of $700.
Our Odds Calculator will show you how much you'd win based on the odds and amount bet.
What is a Prop Bet?
A prop is a bet on the occurrence or non-occurrence of certain outcomes that may not necessarily upset the outcome of an NFL game. In this case, it's the Defensive Player of the Year, an award given out after the regular season.
You can make a bet like this as soon as the odds are announced. Oddsmakers will move the lines as players pad their stats, succumb to injury or their production decreases. If you see odds you like, jump on them like a loose ball after a fumble, otherwise the action could move so much that you'll barely make a profit or maybe even not make one at all.