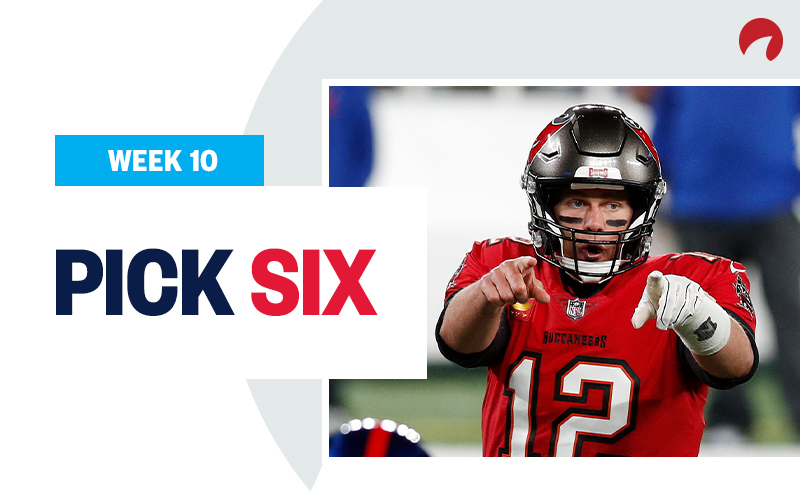 Week 10 in the NFL is going to be bananas! With six games to be played in the 4 p.m. ET time slot, it's like Sunday will be two slates of games and I'm here for it. Week 9 was not kind to me and the Pick Six as my profit streak came to an end, although I still feel vindicated for taking the Dolphins moneyline at +215 over the Cardinals to curb the losses.
There won't be any underdogs in the Pick Six for Week 10 and my expert analysis has led me to totals for three of my six picks. I'm also making a pick for Thursday Night Football, which is a first for the Pick Six in 2020.
See Odds Shark's Best NFL Picks Sites
You may think some of my NFL best bets are square, but I'd rather be a square and win than a contrarian and lose. That's why I'll understand if you want to fade but take that route at your bank account's own peril.
Week 10 NFL Picks
If this is your first time checking out my NFL picks or you aren't sure what to expect, here's how it works: Each week during the 2020 NFL season, I give you my six favorite plays on the moneyline, spread or total. All NFL betting odds below are courtesy of the latest lines as of this writing and The Pick Six will be presented weekly right up to Super Bowl 55.
If you're looking for my prop bets or touchdown scorer picks, follow me on Twitter at @GDAWG5000 and all my prop picks will be there.
---
Tennessee Titans -1 vs Indianapolis Colts (-110)
This is my best bet for the Capper Cup in Week 10 and I think the Titans are being seriously disrespected by oddsmakers. Tennessee has the power running game that no defense can stop and should run right over an overrated Colts defense. The Titans are averaging 29.5 points per game and at home that average climbs to 33 points.
The other reason you should fade the Colts is because QB Philip Rivers is a shell of his former self in Indy blue. The Colts are 2-2 SU in four road games this season and Rivers has thrown an interception (sometimes two) in all of them. The Titans are a top-three team in the NFL in forcing turnovers (they lead the league in turnover differential) and this game has Colts disappointment written all over it. Titans by double digits.
Colts-Titans Game Center
---
Los Angeles Chargers-Miami Dolphins OVER 48 (-110)
In case you haven't seen the Chargers play this season, let me get you up to speed: The Chargers offense is electric. QB Justin Herbert and the Bolts have scored 26 or more points in five straight games and most of that is due to Herbert being able to bomb passes downfield.
The Dolphins defense is scary, don't get me wrong. This isn't me fading the Dolphins defense but actually complimenting it because they've been able to force turnovers AND put points on the board with pick-sixes or fumble recoveries.
But when you consider the Chargers defense and look at second-half performances, all the stars start to align. Los Angeles has the worst second-half scoring defense in the NFL, allowing just under 24 points per game. Even if Miami's offense struggles to start, look for the Chargers to blow a late lead and let the Dolphins get back in the game. This game will likely finish in the 50s.
Chargers vs Dolphins Game Center
---
Tampa Bay Buccaneers -5 vs Carolina Panthers (-110)
The bounce-back game. That's what Tom Brady and the Bucs are set for, and after being destroyed and embarrassed on Monday Night Football, you know Tampa Bay is going to come out guns blazing. The Bucs have been one of the better teams coming off a loss this season, winning by double digits both times they've been in that position, with the defense holding opponents to 17 and 10 points, respectively.
We've also seen this matchup already this season, and the Bucs ended up winning 31-17 in Week 2. An angry Twitter follower (and an avid reader of the Pick Six) made sure to remind me the Panthers were within seven points before the Bucs Leonard Fournette ran for a 49-yard touchdown with less than two minutes to go to close the game. At least my readers keep me honest! Bucs by double-digits.
Buccaneers vs Panthers Game Center
---
Philadelphia Eagles-New York Giants OVER 44.5 (-110)
Seeing the Eagles and Giants play again so quickly after their yawn-inducing Thursday nighter on October 22, I can see why some bettors would be troubled taking an OVER. I don't put much stock in that result because both teams left a lot of points on the board that should've easily taken the game OVER the total.
Say what you will about the Eagles (Lord knows I have) but offensively, they've been pretty solid when Carson Wentz isn't throwing an interception. From Week 3 onward, they've averaged 25 points per game and their defense hasn't been great, allowing just over 26 points per contest.
This bet really comes down to whether you believe the Giants and Daniel Jones can score 20 or more points and considering they've done that now in five straight games, I'm not ready to write off the Giants' contribution to this total. They were a blown holding call away from dropping 28 points on the Eagles just over three weeks ago. Take the OVER and watch the points roll in.
Eagles vs Giants Game Center
---
Arizona Cardinals -2 vs Buffalo Bills (-110)
This is a bad matchup for the Bills. Buffalo's strength this season has been throwing the ball but it's about to face a secondary that is only allowing 198 passing yards per home game. The Bills offense may have been a mirage in last week's butt-kicking of the Seahawks, who were traveling to the East Coast and have a horrendous pass defense. It won't be a walk in the park for the Bills thinking they can replicate that game plan vs the Cardinals secondary.
Another reason why I love the Cardinals this week is their ability to stop teams in the red zone. They rank in the top 10 in red-zone defense this season and it makes sense given they're middle-of-the-pack for yardage but eighth in scoring defense (22.3 points per game). Give me the Cardinals and if you can get Kyler Murray at plus money for a rushing touchdown, take that too!
Bills vs Cardinals Game Center
---
Minnesota Vikings-Chicago Bears UNDER 44.5 (-110)
I love a good prime-time UNDER and these two teams set up nicely for a slow, plodding game. The Bears are one of the best UNDER teams in the NFL this season with six of their games going UNDER the closing total and only one of their home games going OVER.
It's easy to look at Vikings RB Dalvin Cook and think he's just going to dominate for multiple touchdowns, but the Bears defense is no joke when it comes to playing the run. The Bears rank in the top 10 in rushing yards allowed per game and have only allowed six rushing touchdowns. The Vikings are going to need to pass to put up points and with the interception-prone Kirk Cousins at QB, it will be a lot harder than it looks.
I'd be remiss if I didn't at least touch on the Bears offense, or lack thereof. Nick Foles has not looked great under center for Da Bears and the offense has scored 20 or fewer points in four of the last six games. The Vikings defense has had its games where it's gotten shredded but I think head coach Mike Zimmer can devise a way to neutralize the Bears offense if Foles doesn't do it himself. UNDER all day.
Vikings vs Bears Game Center
---