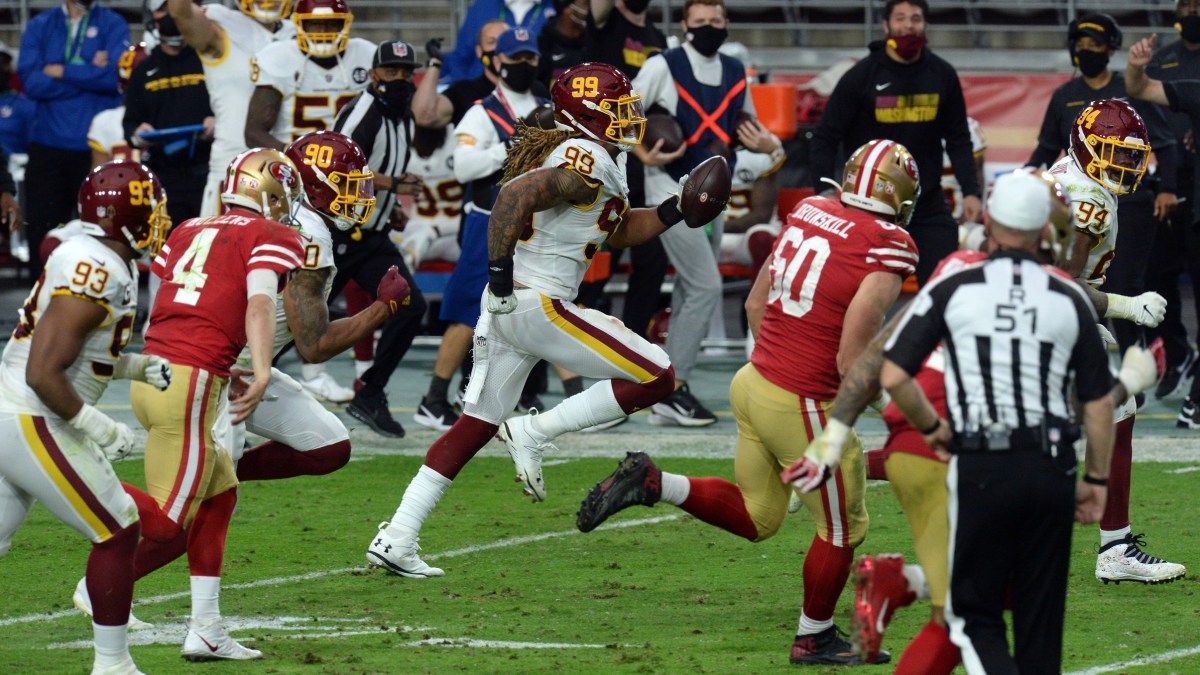 Rivera channels Iverson when discussing his two top pass rushers originally appeared on NBC Sports Washington
Almost as soon as Chase Young was drafted by Washington, conversations about what he and Montez Sweat could do together began unfolding. The expectations, like the pair's talent, were high — yet the last three games have shown the pass rushers are more than capable of meeting them.
Against the Steelers, Sweat frustrated Ben Roethlisberger and Pittsburgh's offense from beginning to end. He deflected three passes, one of which led to the clinching interception, and he was a menace on the edge versus the run. That effort came on the heels of him returning his own pick for six points in Dallas on Thanksgiving.
Then, on Sunday, Young nearly covered every space in Special Defender BINGO, as he sacked Nick Mullens, forced a fumble, recovered a fumble and scored a touchdown. Young was by no means quiet in the two previous contests, but his Week 14 performance was one that'll go on his career highlight tape in a decade and a half or so.
When talking with reporters on Monday, Rivera — who recently called Young and Sweat "two peas in a pod" — explained how those two elevate each other and, in turn, the entire roster thanks to what they do on a daily basis.
"There might be a little bit of competition but it's not openly out there," Rivera said. "What's out there is the cooperation in practice between the two of them."
As he continued, the coach made reference to one of the best sports rants this world has ever seen as he described something that went down last Friday at the team's facility.
"I mean, something will happen in practice — it's practice, kind of like Allen Iverson — and when you watch them and the way things happen and they're both going at it and they practice full speed, I cringe sometimes because they go so hard but it's just in their nature," Rivera said. "And then to see one tip the ball and the other guy catch it and take it into the end zone in practice [on Friday], that's pretty exciting. That's what I mean by the cooperation."
The only thing better than that story is the thought of that same kind of story repeating itself over and over and over again as Sweat and Young progress deeper into their Washington careers. If this is what they're producing in their rookie and second campaigns respectively, how scary will they be in, say, 2024? Mullens would prefer not to imagine that.
Yet as fun as it is to envision the two first-rounders aging together, it's also worth appreciating the early stages of that co-development. No. 99 and No. 90 will wreck many more offensive gameplans, but what they're collectively building in the present stands out to Rivera.
"One guy does something, the other guy feeds off of it, next thing you know there's success," he said. "To see them play that way and practice that way and prepare that way, and it's not just them, but it's the team in general. You perform and you practice at a high level, hopefully it carries over to Sunday."