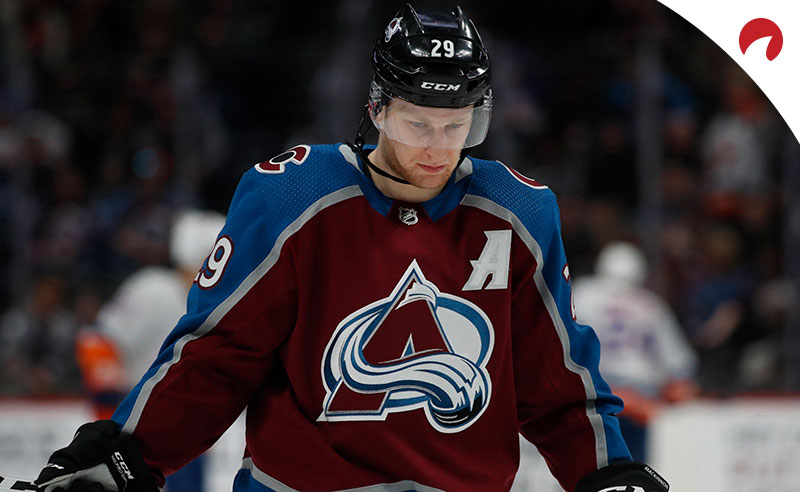 Ready for some hockey? The NHL is set to return on January 13, 2021, with a new-look division format and a shortened season as a result of the COVID-19 pandemic.
So, which teams have the likeliest chances to go all the way? At online sportsbook Bovada, the Colorado Avalanche are the +650 favorites in NHL Stanley Cup odds, followed by the Tampa Bay Lightning (+800), Vegas Golden Knights (+850), Toronto Maple Leafs (+1000) and Boston Bruins (+1400) at the top of the list.
See Odds Shark's Best NHL Sites
New to betting on hockey? We have a great NHL betting tutorial to assist you in placing a wager on Stanley Cup odds. To find the sportsbook that's right for you to get some money down on the ice, head over to our Sportsbook Review page.
Here's a look at the Stanley Cup odds for all 31 NHL teams to win in the 2021 campaign. The implied odds in the table are courtesy of our Sports Betting Odds Calculator.
Stanley Cup Odds
Odds to Win the 2021 Stanley Cup

| Team | Odds | Implied Odds |
| --- | --- | --- |
| Colorado Avalanche | +650 | 13.3 percent |
| Tampa Bay Lightning | +800 | 11.1 percent |
| Vegas Golden Knights | +850 | 10.6 percent |
| Toronto Maple Leafs | +1000 | 9.1 percent |
| Boston Bruins | +1400 | 6.7 percent |
| Philadelphia Flyers | +1500 | 6.3 percent |
| Edmonton Oilers | +1600 | 5.9 percent |
| St. Louis Blues | +1800 | 5.3 percent |
| Washington Capitals | +2000 | 4.8 percent |
| Pittsburgh Penguins | +2000 | 4.8 percent |
| Dallas Stars | +2000 | 4.8 percent |
| Carolina Hurricanes | +2000 | 4.8 percent |
| Montreal Canadiens | +2200 | 4.4 percent |
| New York Rangers | +2500 | 3.9 percent |
| New York Islanders | +2500 | 3.9 percent |
| Vancouver Canucks | +2800 | 3.5 percent |
| Calgary Flames | +2800 | 3.5 percent |
| Nashville Predators | +3000 | 3.2 percent |
| Winnipeg Jets | +4000 | 2.4 percent |
| Columbus Blue Jackets | +4000 | 2.4 percent |
| Buffalo Sabres | +5000 | 2 percent |
| San Jose Sharks | +5000 | 2 percent |
| Florida Panthers | +5000 | 2 percent |
| Minnesota Wild | +5500 | 1.8 percent |
| Arizona Coyotes | +6000 | 1.6 percent |
| Chicago Blackhawks | +6600 | 1.5 percent |
| Los Angeles Kings | +7500 | 1.3 percent |
| New Jersey Devils | +7500 | 1.3 percent |
| Anaheim Ducks | +7500 | 1.3 percent |
| Ottawa Senators | +10000 | 1 percent |
| Detroit Red Wings | +15000 | .9 percent |
Odds as of January 11 at Bovada
2021 NHL Season Will Look Very Different
The NHL is preparing to navigate uncharted waters due to COVID-19, as the league is going to play 868 games over 116 days – 56 games per team. Training camps began on January 3, and there won't be a preseason.
The regular season will conclude on May 8, with a conventional 16-team, four-round playoff format on deck with all series to be best-of-seven affairs. Four teams from each of the league's newly formed divisions – the North (all-Canadian division), Central, East and West – will qualify for postseason play.
Throughout the campaign, teams will play solely against other teams in their division. This was implemented to reduce traveling and to work around the restrictions put in place by the Canadian government for Americans coming into Canada.
Both of the first two rounds will feature intradivisional play. Then, the four division winners will advance to the semifinals and be reseeded based on their regular-season point totals.
The two semifinal victors will participate in the Stanley Cup Final, meaning the championship round is not guaranteed to feature an Eastern Conference squad vs a Western Conference club for the first time since the conferences were formed.
Stars are Already Being Undervalued By Oddsmakers
What do the Stars have to do to get respect from sportsbooks? Dallas opened at +2000 to win the Stanley Cup, which is a bit of a surprise considering the deep playoff run this team is coming off.
Dallas's +2000 number puts the team in the same territory as the Pittsburgh Penguins, Carolina Hurricanes and Edmonton Oilers. The Stars will have starting netminder Ben Bishop back for the start of the season, which will be a huge boost for their bettors.
Bishop missed the majority of the 2020 playoffs due to an injury. Backup goalie Anton Khudobin did an excellent job in his place in leading the Stars to the Stanley Cup Final, but the Russian wasn't able to keep that same form against the Lightning.
---
What is a Futures Bet on Stanley Cup Odds?
Before hockey season starts, oddsmakers will release their lines on each team's chance of winning the shiny championship trophy. If you were to place a wager at any point before the Stanley Cup Final, you would be making a futures bet. This is a bet that deals with events that will happen in time. For instance, you could bet on the Detroit Red Wings to win the Cup in September, but you would not see the results of your bet until the postseason.
How to Read NHL Stanley Cup Odds
At your sportsbook of choice, you'll see Stanley Cup odds listed like this:
Tampa Bay Lightning +300
Toronto Maple Leafs +450
Vegas Golden Knights +500
Boston Bruins +800
Unlike a moneyline bet where there is a clear favorite and underdog, for an NHL futures bet, you would consider the team with the lowest odds as the fave. In this case, it's Tampa. The team with the highest odds would be the dog. For this example, it's Boston.
Let's say hockey season is about to start and you've done your research. You believe that it's Toronto's year, so you lay down $40 on the Leafs to win the Cup. If they do win it all, you'd see a payout of $220 – your original $40 is returned along with your winnings of $180.
You can use our Odds Calculator to figure out what you'd win based on the amount you bet and the odds.
When it comes to futures, get in on the action early. The closer it gets to the NHL playoffs, the more the odds will shift. Oddsmakers update the lines for these bets frequently as teams slip and fall in the standings. Injuries, trades and coaching changes will affect a team's odds of making it to the Cup Final, and those who set the lines take that into consideration when updating the odds.
As mentioned above, it's important to keep in mind that when you make your NHL futures picks, you won't see a return until Lord Stanley's Cup is awarded to the winner.